Arts & Sciences
Arts and Sciences in the SCA is the pursuit of beauty and practicality through the skills and crafts that existed in period. and are practiced by members of the society. This can include making items through period methods (such as sewing, brewing, or woodwork), or can take the form of performance of period skills (for example, dancing, singing or rapier). The pursuit of Arts and Sciences is the premier way that we recreate the medieval world, and it increases the honour and prestige of our Barony through displays of the excellence of its members.
People in Rowany practice a variety of skills and crafts. From costuming and cooking, through singing, dance, embroidery, woodwork, leather-work, armouring, millinery, calligraphy and illumination, brewing, to period timekeeping, table-setting, astronomy, shoe-making, coopering, equestrian arts – the list goes on and on! If there's anything that was made or done during the SCA period that you're interested in, the chances are we've got someone who's tried it and can give you some pointers.
Knowledge is shared through informal gatherings, specific classes and workshops, or through simply asking someone how they made something similar. Most people who make things or have a specific skill are happy to talk about what they've done and share their ideas and enthusiasm. Arts and Sciences is strongly influenced by individual research into areas of interest which can then be shared with, or taught to, others.
The Barony has an Arts and Sciences officer who is responsible for keeping an overview of Arts and Sciences activities in the Barony, for setting up any competitions for events, and ensuring that people who want to learn or practice specific crafts and skills can find someone to give them advice or teaching. The current A&S officer is listed on the contact page where you can also message them.
If you're interested in being involved in Arts and Sciences activities you can:
attend our regular A&S sessions at Herb Greedy, Marrickville or Dence Park, Epping – Regular Events
ask the A&S officer for advice.
The Order of the Berries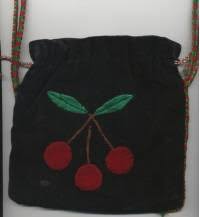 Token of the Order of the Berries
The Order recognises members of the Barony who have demonstrated skill and excellence in the Arts and Sciences. Members are added to the order by recommendation to the Baron and Baroness, and formally recognised during Baronial courts. The badge of the order is: Two rowan leaves conjoined vert, pendant therefrom three berries gules. New members of the order are presented with a pouch displaying this badge, and are encouraged to make a replacement pouch to be handed to future members.
We previously had a Baronial A&S projects spreadsheet where Arts and Sciences projects to further the Barony of Rowany were listed and organised. You can see some of our past projects listed here